Subpage of Help index
Introduction to VemsTune
VemsTune is the configuration/tuning software for Vems V3 ECU. It allows firmware upload config upload, all of the config/tuning parameters to be modified via (dialog, table editor, curve editor) and has rich real-time Gauges.
Some most important features of VemsTune:
Autodetect ECU features by version:
Detect the ECU version and compile time parameters and load the appropriate ini file so there is only one VemsTune should be installed on the PC.

Config sanity check:
Validate the firmware config (sanity check) (tables headers order, output channels collision, etc ) Press the green pipe in the toolbar.

Table import:
Import only given table from config dump (*.vemscfg)

GPS logging:
On a separate serial port any NMEA capable GPS receiver can be connected. GPS realtime data can by displayed and automaticaly saved to *vemslog

Advanced Log:
Vemslog can contains ECU realtime, config values and GPS data. When vemslog replayed all config parameters loaded as well. Some realtime values depends on config setting so these values are displayed correctly. Is is important to note that it works only if logs has been created online with vemsTune an not if log downloaded from SD card.

Firmware downloader:
In Firmware/Firmware web tool. All released fw version can be downloaded. It is important to note that firmware version is needed to Config sanity check as well.

SD card log download:


Offline mod:
Read/Write mode! Config(*.vemscfg) and log(*.vemslog) files can be loaded and data (realtime and config) can be seen in dialogs/tables etc.

Drag&Drop support:
Vemslog/VemsCfg files can drag and drop into the main frame.

Dynamic Hotkey:
For 2D/3D table editor.

Single Fame/Multiframe support:
New one frame group design was implemented, but the old multiframe could be selected as well.
Screenshots
All widget in one frame: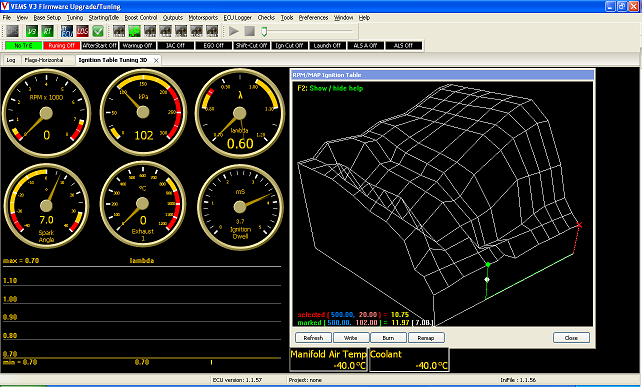 Gauges in separate frame: