Subpage of Display Menu
Round Main Display Settings
This utility is a user-friendly tool to set up your Round Display.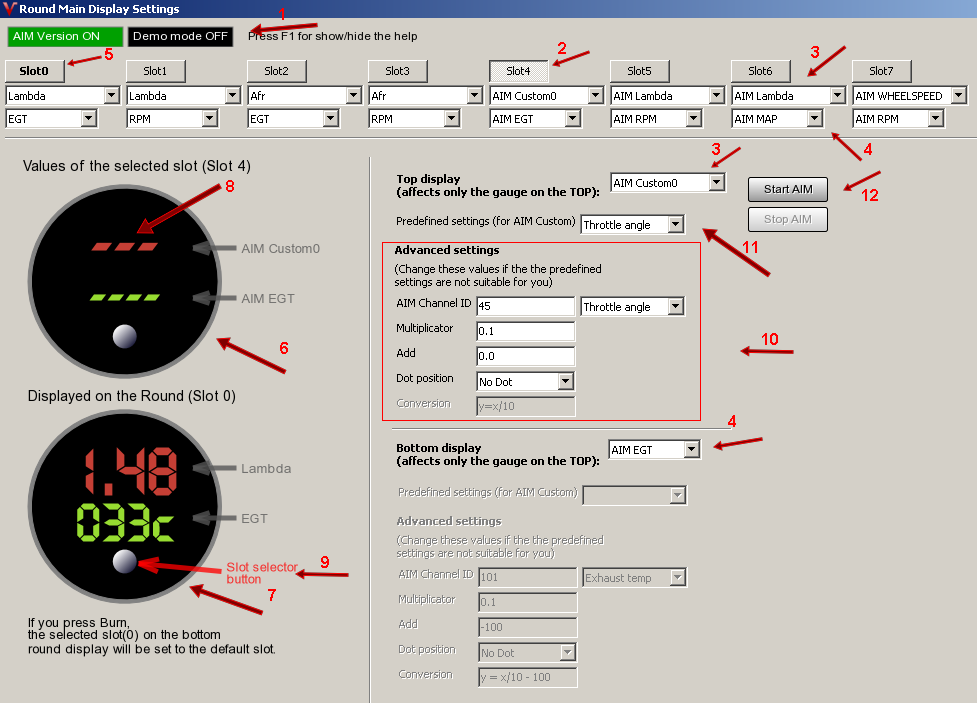 On the top of the settings dialog you have two flags(1), shows the Firmware is AIM version or not and Display demo status.
Under it you can select which slot(2) you want to configure, and what is configured (to top display(3), to bottom display(4)). And shows what slot displayed on Round with Bold (5).
On the left there is two figures of Round:

The upper(6) shows the value of the selected slot.
The lower(7) shows what the Round unit displays.
If you see "---"(8) than you selected AIM value and the PC hasn't got AIM stream, so the PC cannot show proper value.
On the lower figure you can press the button(9), it change the slot on the Round (remember if you burn, this slot will be the default after poweron)

The left side of the dialog you can set up the selected slot (in some cases with details too).
New mode: Blank display, for "night-cruising"

Select for example "AIM custom3" (or other 0..4) for any slot.
AND the "Multipicator" in the Advanced settings to 0. Zero multiplier has special meaning: blank.
Or use the "Blank screen" predefined settings.
Set "custom 3 dot position".

If you use AIM version:

For fast configuring custom AIM channels, there is a predefined settings selector(11).
Under it you can fine tune(10) to your needs.
On the left you can see Start AIM and Stop AIM buttons(12). It controls the second serial input for AIM stream (set in Display menu/ Round main display dialog / AIM port).